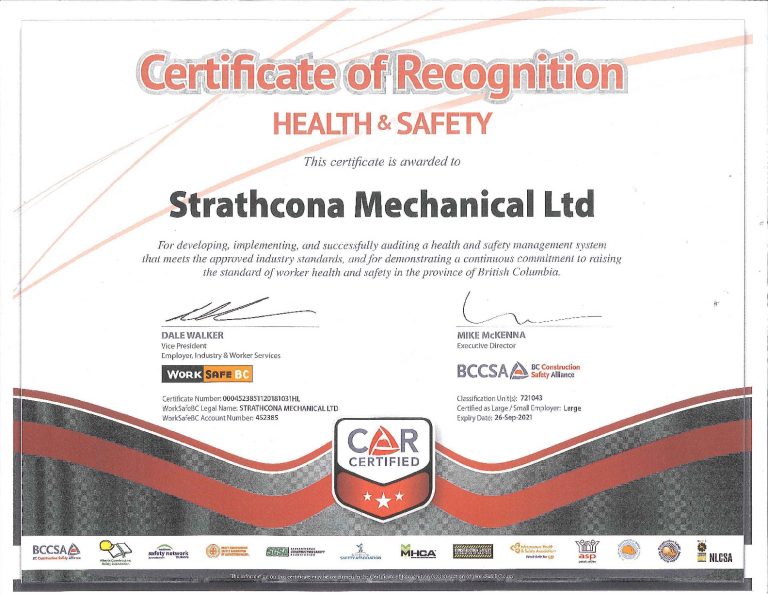 Statement of
Safety Policy
The personal safety and health of each employee of Strathcona Mechanical Limited (SML) is of primary importance. The prevention of jobsite-induced injuries and illnesses is of such consequence that it will be given priority over operating productivity where necessary. To the greatest degree possible, management will provide all mechanical and physical facilities required for personal safety and health in keeping with the highest standards.
SML will maintain a safety and health program conforming to the best practices of organizations of this type. To be successful, such a program must start with employee support. It also requires co-operation in all safety and health matters, not only between supervisor and employee, but also between each employee and his or her co-workers. Only through such a co-operative effort can a safety program be established and preserved in everyone's best interest. It is a "right" for all workers to work in a safe work environment.
Our objective is a safety and health program that will reduce the number of injuries and illnesses to an absolute minimum, not merely in keeping with, but surpassing, the best experience of operations similar to ours. Our goal is zero accidents and injuries.
Affiliations
Strathcona Mechanical Limited (SML) is proud to be affiliated with the following organizations:
Ready to Start Working With Us?
Get in touch today to see how we can help with your upcoming project.